Tip to Avoid Back Pain :: Chiropractor Mankato
Oct 14, 2014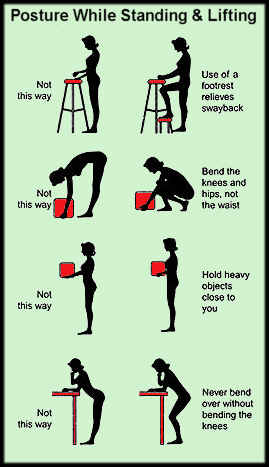 We live in a world that requires our body to do many different types of work and stand/sit in an array of different positions.
This diagram does a great job demonstrating how to properly lift and stand in order to avoid damaging your spine, and prevent back pain.
Our Mankato Chiropractic office sees patients every week who have injured their back after lifting something incorrectly, or standing/sitting in an awkward position for too long.  Many of these incidents could have been prevented if some of the above techniques were used.
Keep these tips in mind for future use, and give us a call if you have any questions.  Dr. Jon Grissman would love to assist you.
507-387-5591
Advantage Chiropractic